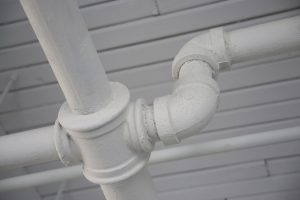 Here at EMCO/Westlund Water Solutions, our goal through continued cooperation and education is that, 'no one at EMCO gets hurt'.  In addition to mandatory completion of Health and Safety training including but not limited to WHMIS, Slip & Fall Training, and Lifting Loads Safely, our teammates must complete 40 hours of workplace related training.  Furthermore, 100% completion of monthly workplace inspections are mandatory for our Profit Centers.

It is crucial to discuss workplace health and safety at our warehouses and construction sites due to the hazardous materials and operations which concern our day to day businesses.  Without comprehensive education, ensuring proper precautionary measures, and consistent inspection, warehouses and work sites potentially become dangerous.
June's Safety Minute regarding pipe handling safety was written following an accident at an Oregon job site.  The importance of knowing the preventative measures to take when working with pipe is of high value to anybody in such a position.
Pipe is difficult to maneuver typically because of its length, weight, and its tendency to roll.  Particle release from cut pipe and electrical conductivity constitute two additional risks when working with certain types.
5 THINGS TO KEEP IN MIND when working with pipe include:
Carefully assess the load and keep in mind that looks can be deceiving – 2" extra heavy seamless pipe can crush extremities
Enamel coatings and grease on the outer surface of pipes are extremely slippery. These pipes can easily slip out of work gloves and shift during breaking and turning during transport
Rolling pipe. (The larger the diameter of the pipe and/or the heavier the pipe, the greater the moment of inertia and the greater the force required to change the pipe's rotation)
The edges of cut pipe can be very sharp and have metal burrs which can penetrate through flesh
Elastic potential energy resulting from the deformation in pipelines can result in sufficient forces to break bones when released (See the video below)
If you are faced with the task of individually handling pipe and are concerned in anyway about your well being, do not hesitate to ask a coworker for assistance.
Check out Safety Services Company for a detailed list of 25 Safety Tips for Steel and Pipes.